Urban Decay Build Your Own Palette
This is bulky and not that cost effective, but I had 4 single pot Urban Decay shadows that got no love. This helped me remember to use them and pack them for a pop of color when I'm on a  trip. I was surprised that my shadows are somewhat coordinated as well. One of the best things about this palette is the mirror. It's large and clear and it stays open at an angle that is super convenient for doing makeup on the go. The palettes are available in different designs and some come with 1 shadow. I think those are a better deal, but I already had 4 shadows.
Collection Eyes Uncovered Nude Grey Palette
This little drug store palette is super cheap and very travel friendly. It's a fraction of the size and weight of the Naked palette and if it gets damaged or lost, it's no big deal. The shimmery shades are lovely. The matte shades don't do much for me. The lightest one is ashy and doesn't swatch well anyway and the black one is not opaque at all. It's a nice set for the price and a must have on most of my weekends away.
Cherimoya Matte Black
I'm not familiar with this brand. I was gifted this single shadow matte black. It's great to have with me if I chose not to bring an eyeshadow palette. Blush, bronzer, etc can all be used as shadow, but there's no substitute for black. I also use it to create a soft eye liner.
NYX Eyebrow Cake Powder
I've owned this for years. I hit pan on my last one and the cover came off and it got filthy. I went without it for a few months but finally went out and got a replacement. I've always preferred powdered brows to penciled ones. NYX is the best drug store brow powder I've tried. The light brown in the kit makes for a perfect contour color because it's a cool toned brown that can mimic natural shadows on my skin tone. I love getting more than one use out of a product.
ELF Cream Eyeliner Coffee

I picked this up on a whim, thinking it would be a good dupe for gel brow products. It works excellently for that use. Granted, I haven't tried any products that are specifically intended for that use. I've had it for a while and it hasn't dried out. The color works great for my brows and after setting with powder, the gel doesn't budge.
MD Factor Spoolie and Brush
I got this as a freebie and have used it faithfully ever since. The caps do come loose on their own, but they keep the brush clean and more hygienic.
Benefit Watts Up
This is a rediscovery for me. It got heavy usage in 2015. I got it as a Sephora birthday freebie a few years ago and I've barely scraped the surface. I watched some strobing tutorials from makeup artist Jordan Liberty and found some great uses for this cream highlighter.
NYX Soft Lip Cream London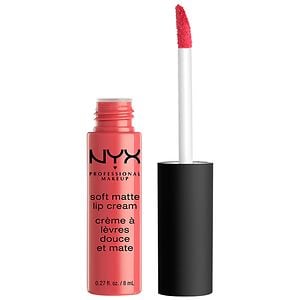 I had high expectations for this nude and was really disappointed when I first used it. I thought it absolutely needed a lipliner to look natural. Surprisingly, I've used this a lot over the past year. It doesn't need a liner but I either put it on sparingly or add a lip balm to give me a wash of color.
Bare Minerals Eyeshadows

These shadows are so lovely and girly. They provide a nice wash of color that's so flattering. Because they're loose, I don't travel with them. I hope to use them more in 2016 and display them in a way that helps me put them in my regular rotation.
Calvin Klein Lip Gloss
I'm not entirely sure if these are real. I found them in my local Poundland for £1. I picked up 5, because I thought it was a steal. Luckily, I loved them all. They are shockingly opaque. The colors are lovely and rich. They smell nice and feel nice on the lips. My only complaint is that you have to use your fingers to apply it and due to the dark colors it can get messy.
Make Up Forever Smoky Extravagant
Mascara is one of those things that I thought were all the same- drug store or high end. This however is hands down my favorite mascara of all time. I usually go for waterproof and this is not. The brush is fat and tapers to the end. The formula is just perfect and the wand makes it easy to get to all my curly lashes. I love this more than expected. It was another Sephora freebie but I will definitely purchase when I'm out.
FTC: Contains affiliate links/pictures.