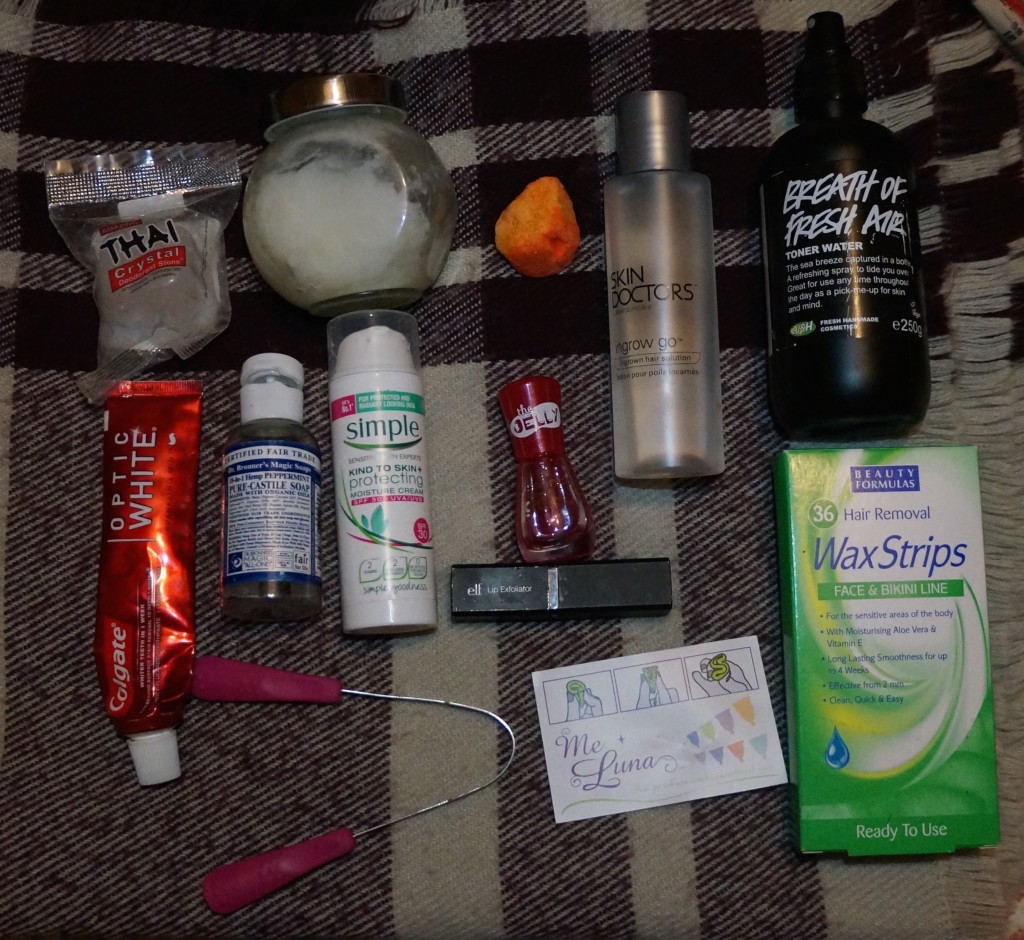 Listed Left to Right, Top to Bottom
Thai Crystal Deodorant
I looked for alternative "natural" deodorants for a few years. I tried some readily available ones like Toms. I didn't really notice any difference from the standard deodorants and I wasn't fond of the watery formulas that took a while to dry. After doing some research, I decided on a Thai deodorant stone. I found a sample size for cheap at iherb.com. You simply wet it and rub it on your armpits. It does an excellent job of preventing odour. This is also great for carry on travel. Product Link; Sample Size for Different Brand
Coconut Oil
I don't need to say much about this. I use it on my hair. I especially like this for removing makeup. I love some waterproof mascara and coconut oil gets it off the first time, every time. It's also very gentle and of course, all natural. Product Link
Lush Bubble Bomb
I've never tried regular Lush Bath Bombs, but I picked up a few bubble bombs one day. The scent is really strong and pleasant. There are tons of options. I only break off a small chunk each time I use it so it's lasted me a very long time. Depending on how much you use, the bubbles can last quite a white. It's also another carry-on friendly (i.e. non liquid) product, if you want to have a relaxing bubble bath while away.
Skin Doctors Ingrown Hair
This is a new product for me. For most of my life, I didn't realise that my keratosis pilaris or chicken skin, was actually a thing. Having dots on my legs never really bothered me…even though others made it a point to point it out. The condition (dry, thick skin) blocks hair follicles and causes ingrown hairs. When I started waxing my legs instead of shaving, the ingrown hairs got worse. I still prefer the smooth, long lasting results of waxing. I found this chemical exfolient. I use it a few days before waxing and a few days afterward. It really helps with cutting down on the amount of ingrown hairs on my legs. It's expensive, but worth it.
Lush Breath of Fresh Air Toner Water
I've never used a toner before this but I have no complaints. All of the ingredients are gentle on my skin. It lasts a long time. They have a small size, which I purchased first to try it out. I then bought the large size. The spray nozzle on the large bottle is annoying and doesn't spray in a fine mist so I transferred the toner into the smaller bottle. I spray this on my face and I've also used it in my hair.
Colgate Optic White Toothpaste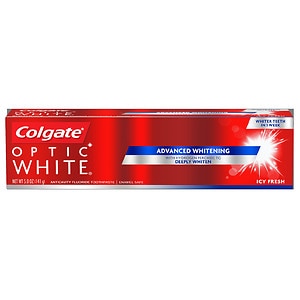 I tried to switch to a natural toothpaste, but I haven't found one that has the same whitening power of Optic White. This is a long time favourite of mine.
Dr. Bronners Peppermint Castle Soap Travel Size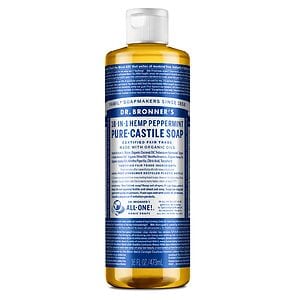 This soap has been a staple of mine for years. I was excited to find it in a travel size at American Apparel, so I can take it with me. Unfortunately, my bottle broke last week, so I have to start the hunt for a new one.

Simple Kind to Skin+ Protecting Moisture Cream
I have dry skin so I need moisturising face cream, but I also tend to sweat on hot days so it can't be too heavy. This moisturiser balances both needs and it has SPF.
Essence The Gel Nail Polish
I wanted a thick gel-lick polish…this does the job. It has a downside however, it peels and when it peels it's in huge bits. It's not ideal but it looks lovely when it freshly done. Plus side is that it's inexpensive.
ELF Lip Exfoliator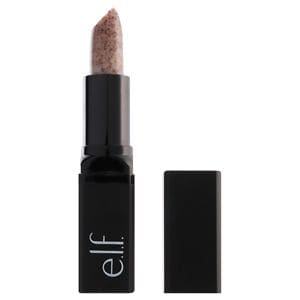 My bestie told me about this because I was eyeing more expensive options at Lush. This ELF lip exfolient gets the job done and is one of the cheaper options on the market. It's a must have for my dry lips.

Wax Strips

Waxing regularly is a pretty new thing for me. I can't stand the pain, but I love how long the results last. I moved from the US to the UK and had to leave my epilator. They are much more expensive here and wax strips are only £1 for 20. I actually don't know if I'll even bother buying another epilator because the wax is slightly less tortuous.

Dr Tung's Tongue Scraper
I don't know how I lived without one. My dental routine is not complete without scraping my tongue. It freshens breathe and overall makes my mouth feel much cleaner. Link to Dr. Tung's Tongue Cleaner
MeLuna Menstrual Cup
It took me a long time to finally purchase a menstrual cup. I had tried disposable ones before but didn't know how I'd get on with a reusable one. Honestly, I should've done it sooner. It's much more convenient than tampons. There's no fear of toxic shock syndrome and I can wait until I'm at home to empty it. My biggest fear was washing it out (it has to be sterilised) and using public restrooms. That hasn't been a problem at all. I have a light flow and even with the smallest cup, it doesn't fill enough to where I have to change it on the go. Luckily the tap water here (in the UK) get's extremely hot so I can clean it in the bathroom. When I was younger, I don't remember cups being an option talked about. It's definitely my preferred option and more young women should at least know what else is out there. MeLuna Shop
Not sponsored, contains affiliate links.